Recent Posts

What Makes African Fabrics Patterns Unique?
by
Admin
November 30, 2016

African Fabric Print: A trendy pattern that is utilized in ...
by
Admin
July 1, 2016

Warmer weather and lighter African Fabrics, what's in season?
by
Admin
May 23, 2016
Return Policy
Returns: NO RETURNS, ONLY EXCHANGE within 7 days from purchase date.
ALL SALES FINAL
Accepted Payments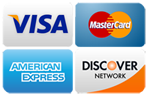 We accept VISA, Mastercard, Discover, and American Express cards.