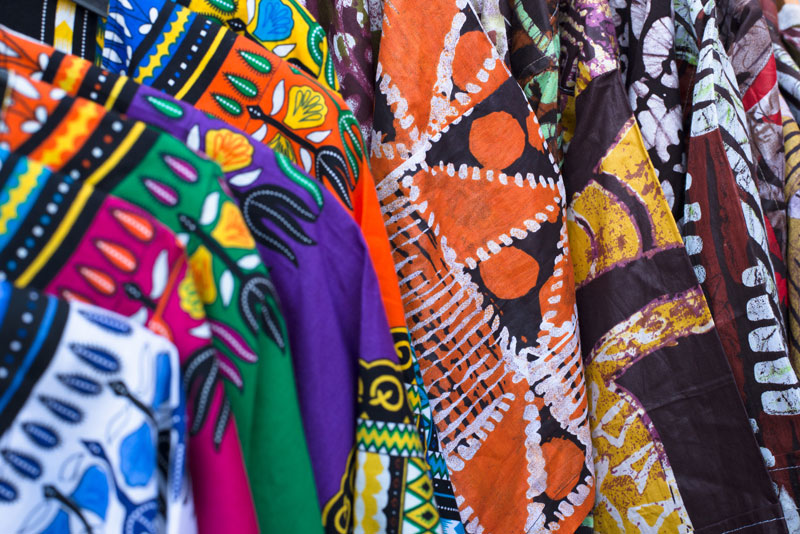 5 Trends for Couples Who Like Wearing Matching African Print Attire
Are you feeling the love this season?
Make an impression by matching with your partner for African Fabric Month this September during your next backyard party or day out at the beach. Couple outfits are a large market and finding increasing popularity in the marketplace. Couples tend to influence one another's taste in clothing and style so it is no surprise that many take the extra step to look good together.
If you and your partner are proud of your African heritage and want to show it off to the world, there are a number of African print attire trends that you can make your own. We will walk through five of them below.
1. Combo Prints With Denim
A trending fashion choice for many African couples is to match their prints with denim for a cool, chic look. Couples can pick out matching printed tops and then combo the look with their favorite jeans.
It provides a beautiful mix of African culture and the western world and is a casual enough outfit to wear just about anywhere. It is up to you to bring the matching energy to this look.
2. Matching Colorful Blazers
One of the more popular trends among young professionals is undoubtedly print blazers. African print blazers bring a vibrant and colorful energy to what can be a dull and drab wardrobe piece. They can be fun and flashy while still being elegant and sharp-looking. This option means you can wear them to events or even around the office.
Men can match their blazers with dark trousers while and women can rock them with skirts, tight dresses or even denim. It is a great way to modernize a classic outfit and look good doing it.
3. Try Kaftans on for Size
A classic African wardrobe choice, the Kaftan has been gaining popularity in African communities here in the U.S. Kaftans are usually made with plain fabric. Sometimes, there is embroidery here and there or colorful designs around the necks, wrists and pocket areas. Kaftans come in a wide range of colors and designs.
They have even become a popular couples' outfit at formal events, such as weddings or award ceremonies.
4. Bathing Suits
An easy place to incorporate African prints? Bathing suits. Most bathing suits already come in colorful and vibrant designs, so it is an easy and unobtrusive part of your wardrobe to begin incorporating African prints.
It is also one of the most adorable outfits to match with your partner. A woman's bikini top matching a man's swimming trousers will make any couple stand out when they hit the pool or the beach.
5. Matching Agbadas
Agbada is the name for a flowing wide-sleeved robe worn by men in much of West Africa. They are a cool new trend in African fashion.
Though agbadas have always been associated with men, women can definitely wear exquisite agbada outfits with embroidery and style as well. They can coordinate their agbadas with their men or can even go for exact color coordination.
African Print Attire for Couples
No matter the occasion, a couple-coordinated outfit is sure to make a lasting impression. Doubly so if those outfits are African print attire with designs already intended to stand out and make an impression.
Check out our blog for more information on the best African print designs and trends.
AKN Fabrics is recognized worldwide for selling the highest quality African fabrics and textiles at low prices. With new designs arriving daily, we always have a great selection of African fabrics and textiles to choose from.
Comments are closed