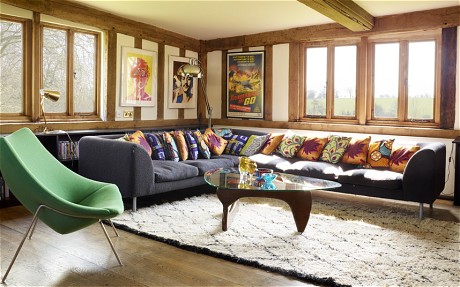 African Fabrics for your Home
African Fabrics are now becoming a trend not just in the fashion industry, but also when it comes to home interiors. More and more fashion companies and designers are considering the beauty of African Fabric Patterns since it has established influence in an international scale.
Since these African Textile Patterns are considered to be a big part of the cultural heritage in Africa, most people are now designing their homes using African Print Fabrics. Kente, which is one of the most known African prints, shows a colorful print that has a very significant and symbolic meaning when displayed. People who can't decide on what color they should choose consider this print as it displays different colors and symbolizes royalty, elegance, and creative ingenuity. There are a lot of Kente cloth weave patterns and they all have different meanings. A few examples are:
Sika Fre Mogya – This translates to "Wealth/Money strengthens family bond", and is a symbol of Responsibility, Sharing, Hard work, and Family Relations
Nsoromma – This is a symbol of High expectation, Hope, Power of the People, and Dependency on God.
Akyem – This pattern symbolizes Bravery and Glorious Accomplishments.
There are also other people who prefer African Laces as one of their home accessories. Voile Lace, which is known for its high quality fabric, makes up an elegant and very detailed design. Its ground base is commonly made of polyester or cotton while the lace is made from the best and thinnest cotton fibers in the world.
One of the things many people love about these African prints is that they showcase a variety of colors into every pattern. However, there are also some who prefers the African Safari prints which creates a great ambiance for your home. It shows less color but will surely wow your visitors because of how it adds character to your home. If you are thinking of doing the Safari inspired room but is afraid if you could pull it off, start with some pillows. These pillow covers with African safari prints are the perfect way to experiment. One or two of these pillow cases would make the perfect accent piece on your neutral-colored sofa.
African Fabrics ensure the highest quality that do not shrink nor lose color. When purchasing these fabrics, one must be aware that there are also fake and counterfeit copies that are made of lower class fabric. Hence, it is important to look for trusted sellers who sell quality African Textiles.
Comments are closed